GoBackup is the only online backup service to offer you Continuous Data Protection.

You may choose the directories to watch and a backup is done as soon as a file is changed !


MANAGEMENT TEAM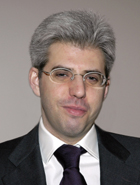 Robert Masse : Founder of BELMATECH SA and GOBACKUP SA, Robert Masse has a wide experience in the computer field.
He has a degree in business administration (Solvay Business School), as well as in law school (ULB - Law Faculty).
Robert Masse is a serial entrepreneur in the field of Internet :
His end-of-year study in 1994 was probably the first belgian universitary work about Internet.